Exams are around the corner... and yet I am still procrastinating like a pig. Darn... But I've been good and tried to study. Don't believe me? Have a look: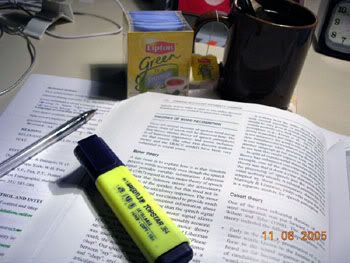 See? It's my Cognitive Psych textbook and notes. Been reading but still do not understand... Oh gawd... How am I gonna pass???
Anyways, notice the green tea? It's good. Lipton Green Tea with Jasmine. Take a closer look:
Hehe... this is one of the caffeine loaded beverages that I have to keep me awake when I'm cramming my brain with stuff I don't understand. Jasmine is for "Chill Out". Can't say it's working but the taste reminds me of the times I go out with my friends at a cafe called "Kafe Kwan". Well, that's what we call it. Can't remember the name... Anyways, yea, I always order iced jasmine tea =)
There's other flavors as well. I've got Honey & Citrus. Honey is just ok... it has a very strong honey smell (my room smells like it after a few seconds and it will last for some time). But no honey taste... so I add my own honey.
DON'T BUY THE CITRUS FLAVOR!!!
It suckz to the max... I still have 9 packets in the box... I can't bring myself to drink it again. Anyone wanna sacrifice their tastebuds for me?? *evil grin*
Sighz... better get back to cramming. All my exams are essay questions.
Oh yea, I know there are people viewing this blog. Leave a note in the Yellbox if ya have anything to say ok? Or don't you people love me??? *puppy eyes*
Bah... my brains so screwed up I'm crapping even more.